Why use complex third-party affiliate platforms or plugins when you can run your own affiliate program from WooCommerce itself? Especially when it's super easy, jargon-free and comes with all the powerful features…
---
Powerful affiliate program with full control and accuracy
Allow people to sign up as your affiliates. Approve them and set them up to receive commissions. Let them create referral links. Track visitors, conversions, commissions, and payouts. It's all there!
Turn customers and subscribers into affiliate partners and brand ambassadors.
Track affiliate progress and adjustments: commissions are adjusted based on order status changes and recurring subscription payments.
The most powerful commission plan system – set commissions based on a number of conditions.
Combine media assets, swipes and other resources in different promotional campaigns. Track performance of each campaign separately.
Easy payouts via PayPal, referral tracking using coupons and many other features.
Integrate with your own site — Affiliate for WooCommerce works as a WooCommerce extension, so your costs and setup time are reduced.
You know that word-of-mouth/reviews and recommendations are powerful. With an affiliate program, you can make them work for you.
Unlock high conversions, sales, and credibility
You have awesome products but are struggling to meet your sales goals… You're not alone. Most makers face this challenge.
One sure way to breakthrough results is a successful affiliate partner program. Why?
81% of brands leverage the power of affiliate marketing, and affiliate marketing spending is increasing every year.
38% of marketers confirm affiliate programs as one of their top customer acquisition channel.
Customers trust people they know and like. They don't know you yet — but when an influencer recommends your products, customers will be a lot more receptive what you have to offer, upping your conversions.
Distribution is key to success. You can spend a ton to get traffic, but affiliates can send you high quality, qualified leads. You get access to their audiences, who are already primed to be drawn to your products.
You only pay for paying customers, not for ads or leads! When you run an affiliate program, you pay commissions only when affiliates bring you a paying customer.

---
Pro tip 1: Set up a lead capture system for affiliate traffic. That way you can get a lead even if it doesn't convert into a sale immediately.
Pro tip 2: Invite your customers to become affiliates. Not everyone will go out and promote you, but those that do will be worth it. (And yes, the plugin can automatically turn all your customers — or any other WordPress users — into affiliates!)
---
Take a look at it yourself…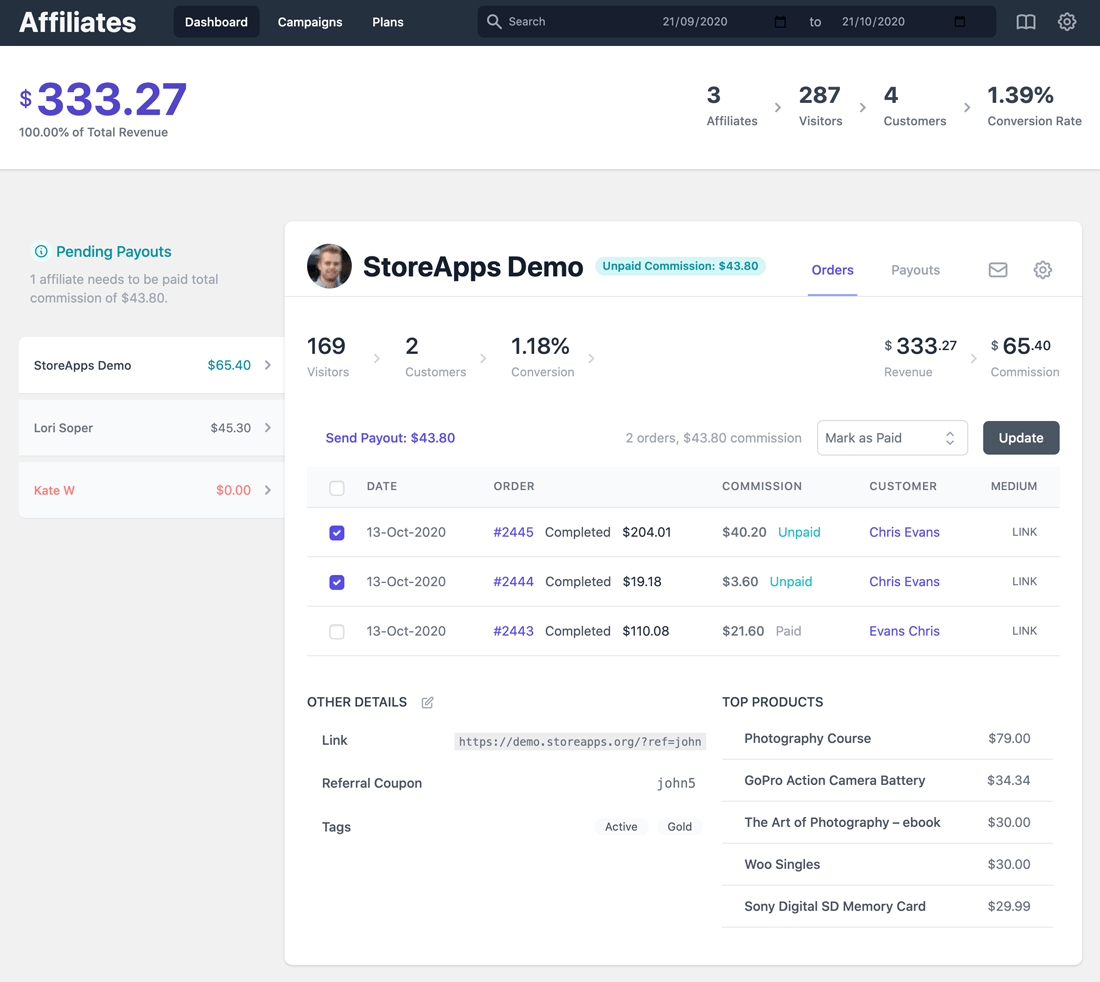 ---
---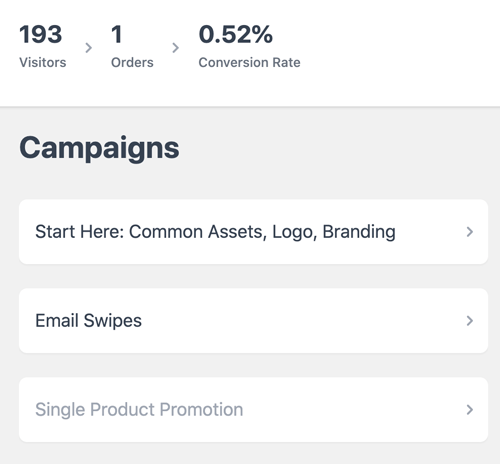 ---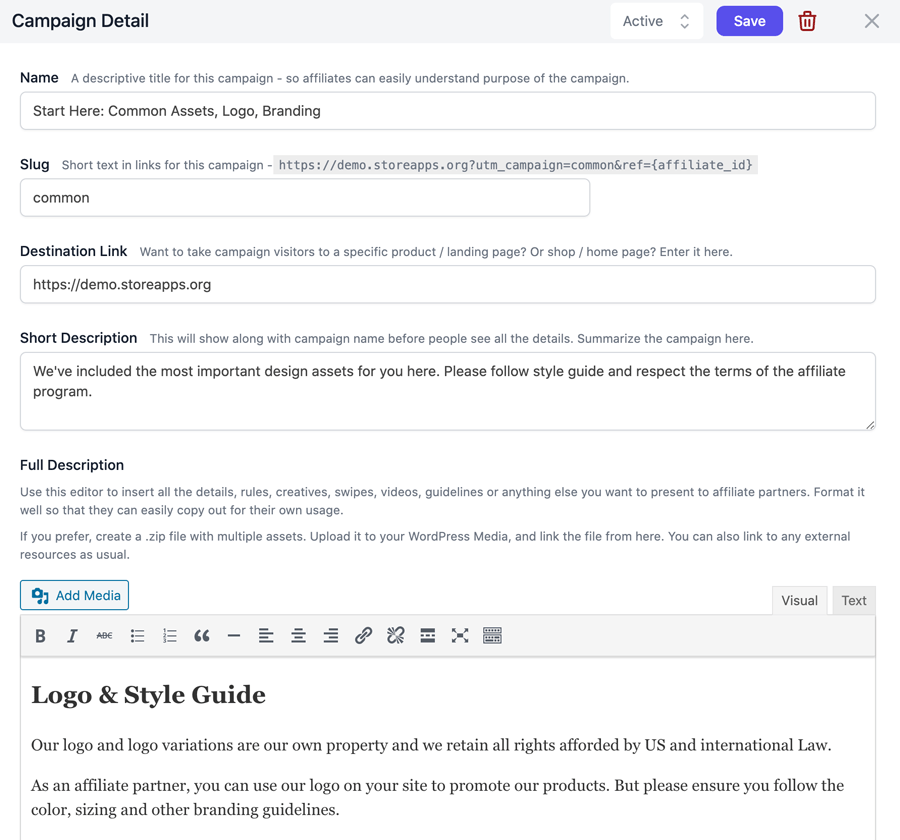 ---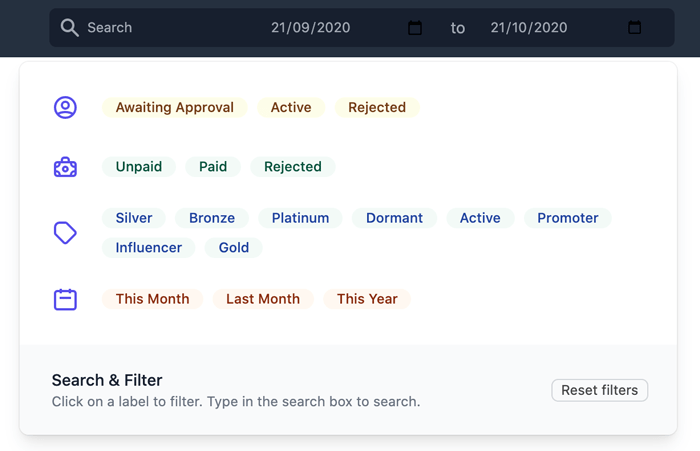 ---
---
---
How is this different from other affiliate plugins for WordPress?
There are a handful of other affiliate plugins for WordPress. Most support WooCommerce and have been around for a while. Why choose Affiliate?
A super easy to understand, single-page UI. No more confusing terminology, clunky interfaces, or multi-screen processes for basic tasks.
Rock solid WooCommerce and Subscriptions support. Your affiliates don't have to worry if their referral will be credited to them or not. You don't have to spend hours reconciling numbers.
We're user-focused. Even your junior staff can take care of month-to-month operations. That means less frustration, cost, and headaches for you.
All the Features You Need
Easy to set up and manage. Single screen interface, no jargon.
Powerful affiliate system, runs everything automatically.
Use coupons for tracking referrals
Set flexible commission plans
Organize promotional assets in campaigns
Payout partners easily using PayPal MassPayout API
No site slowdowns, works on shared hosting – efficient code quality.
Unlimited affiliates, links, visits… You're the boss!
Real-time, accurate and advanced reports. Order sync, conversion rate, other useful metrics.
Affiliate leaderboard shows you top-performing partners at a glance.
Percentage commissions, payout logs, gross/net commissions…
Affiliates can register, generate links, and track commissions themselves.
Automatically turn your customers (or any other WordPress users) into affiliates.
Track product and customer level performance. Know who's promoting what and how well!
Regular improvements and updates.
Developed by a top WooCommerce plugin partner.
Think about this…
Affiliate marketing will give you higher visibility, qualified traffic, higher SEO rankings, and higher revenue, and Affiliate for WooCommerce gives you full control over your own affiliate program. Pick your subscription today!
Finally…
Go for it.
Affiliate for WooCommerce makes it effortless to set up and run your own affiliate partner program. It's tightly integrated with WooCommerce and regularly updated with new features and compatibility. If you want a solid affiliate solution within WooCommerce, this is it.
Go ahead, buy it with confidence.